Participate as an Aqua Nor Student Camp Mentor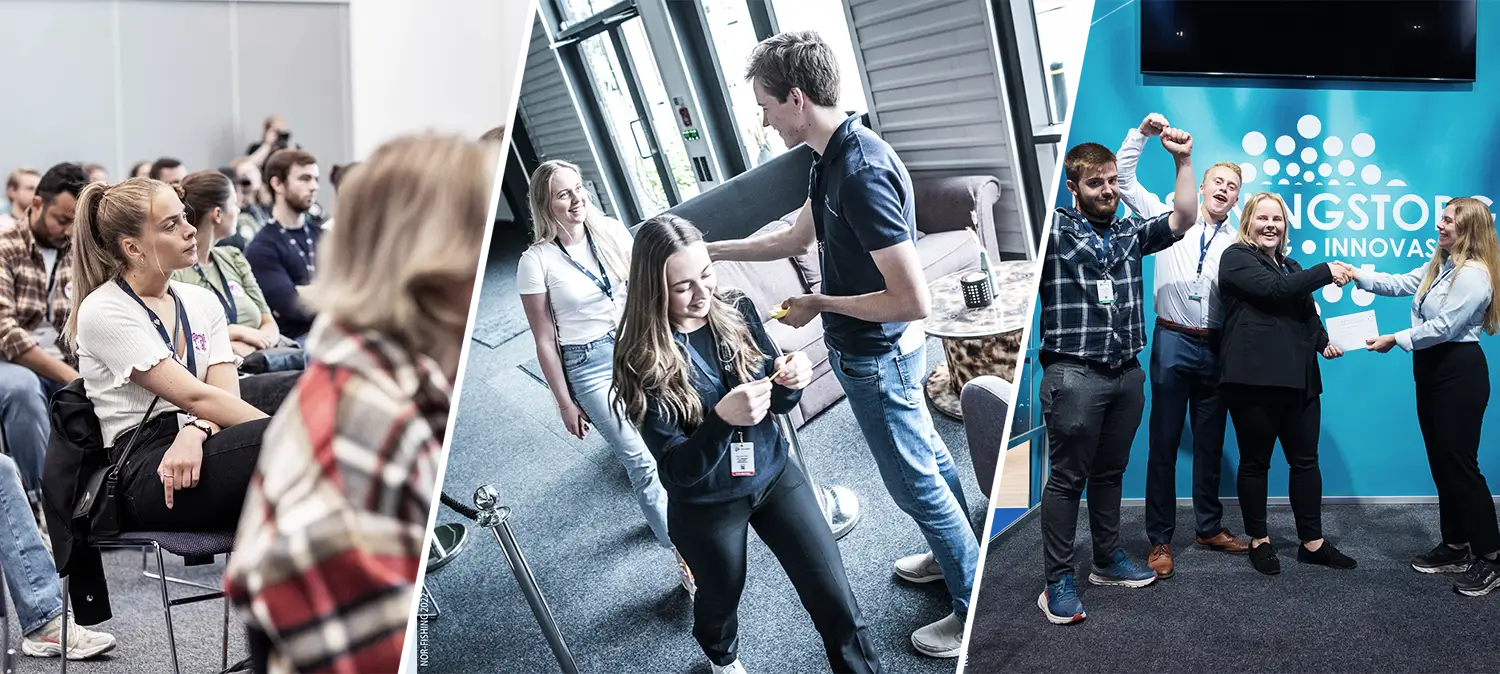 Aqua Nor is the world's largest exhibition for aquaculture technology. Every year, the exhibition attracts hundreds of students who are curious about what the industry has to offer.
This makes Aqua Nor an excellent platform for dialogue between students and actors within the industry. Students wants insight into how companies operate and what opportunities they offer after graduation. The industry needs clever minds and can use the fair to get to know many different types of candidates who they can help inspire and look towards the aquaculture industry as a possible employer or partner for a student thesis.
In collaboration with Stiftelsen Nor-Fishing, NCE Aquatech Cluster and Brohode Havbruk 2050 want to organize the Aqua Nor Student Camp. Here, 25 committed students (5 groups of 5 students) from various educational institutions and fields of study with an interest in aquaculture will meet. Selection of students will be based on their field of study and motivation. Through Aqua Nor Student Camp, they will gain insight into relevant issues from the industry through group work, and use their background and interest for collaboration and problem solving.
The overall theme is: Green future for blue food
The students themselves choose a contribution they want to focus on and use the fairs exhibitors as actors for dialogue. The groups present their solutions during the student day on Thursday 23rd of August at 11:00. A jury assesses the presented result and selects a winning group based on a set of criteria.
Aqua Nor Student Camp needs resource persons from the industry to inspire, explain and challenge the participants. We have called these mentors.
Do you wish to contribute and be an Aqua Nor Student Camp mentor?
You get to:
Make your company visible to 25 highly motivated students
A unique arena for recruitment
Link your company to marketing and mention of Aqua Nor Student Camp
Raise an issue that is important to your business
First-hand insight into the ideas and solutions generated in the student groups
Get to know individual students as possible candidates for involvement in your company
Become better acquainted with the professional environments to which the students belong (they have a stand at Forskningstorget)
You provide:
Attend a social gathering with the students on Monday 21st of August at 18:00-19:00 (other time may be agreed)
Brief presentation of how your company contributes to creating a green future in aquaculture and of the biggest challenges. Tuesday 22nd of August at 09:00-10:00 (other time may be agreed)
Dialogue sessions with the student groups at agreed times on Tuesday and Wednesday.
The cost of being an Aqua Nor Student Camp mentor is NOK 10 000,- per company. If desired, the mentor role can be distributed among several people in the company.
This is how you register as a mentor
To register as an Aqua Nor Student Camp mentor, send an e-mail to sondre.strand.hansen@bdo.no with: name of company + name of mentor(s) + e-mail address/telephone + invoice address + any comment on the set agenda. The organizer will contact you to make further arrangements before the summer.
Program Aqua Nor Student Camp
The Aqua Nor Student Camp kicks off on Monday 21st of August for selected participants on SeeSalmon. Here, the students will be divided into their respective groups, and students and mentors meet to get to know each other.
The dialogue continues Tuesday and Wednesday. The deadline for submitting the presentation is the end of Wednesday. The results of the work will be presented during the student day on Thursday 24th of August, where the winners will be announced. See the attached timetable for more information.
Kick-off Monday 21st of August
| | |
| --- | --- |
| Time | What |
| 18:00 | Welcome to Student Camp |
| 18:10 | Check in – introduction of participants |
| 18:30 | Pizza and mingle |
| 19:00 | Formation of groups, intro to theme, mentors present themselves |
Timetable Tuesday 22nd of August
| | |
| --- | --- |
| Time | What |
| 09:00 | Welcome and check in |
| 09:10 | Breakdown of themes with mentors |
| 10:00 | Exhibition opens |
| 10:00 | Group work, fixed interactions with mentors/guidance |
| 12:00 | Lunch |
| 12:30 | Group work |
| 14:30 | Summary – end of day two + coffee |
Timetable Wednesday 23rd of August
| | |
| --- | --- |
| Time | What |
| 09:00 | Welcome and check in |
| 09:10 | Group work |
| 10:00 | Exhibition opens |
| 10:00 | Group work |
| 12:00 | Lunch |
| 12:30 | Group work |
| 14:30 | Summary – end of day three + coffee |
| 23:59 | Submission of presentation |
Timetable Thursday 24th of August – Student's Day
| | |
| --- | --- |
| Time | What |
| 10:15 | Registration and welcome |
| 10:30 | Student seminar starts, presentations from the industry, students present their work for the jury – see Student's day at Aqua Nor 2023 |
| 11:35 | Student seminar ends |
| 11:40 | Visit the exhibition grounds |
| 13:30 | Mini seminar for students with announcement of the winners at Forskningstorget |