Participate at Aqua Nor Student Camp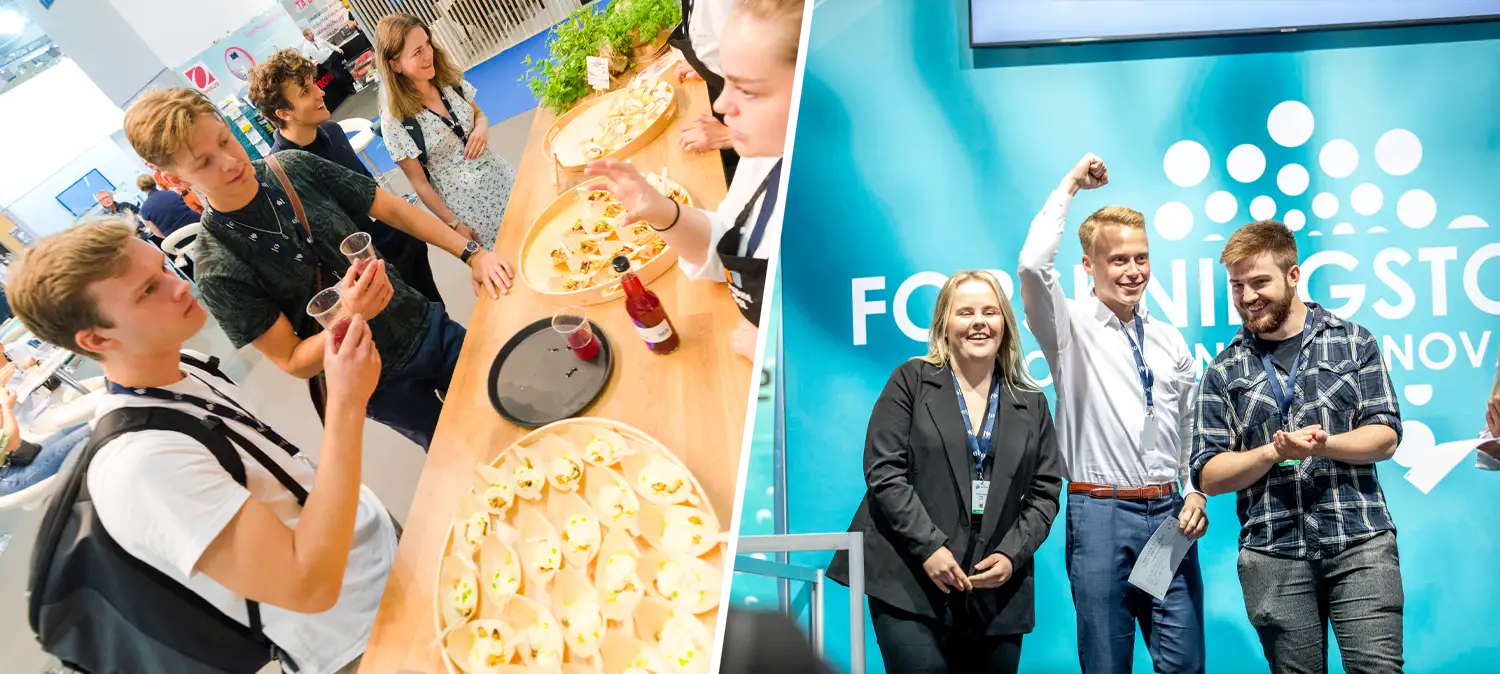 From the 21st to the 24th of August, the stage is set for the first ever Aqua Nor Student Camp. Here, 25 lucky students get the opportunity to visit the fair, show themselves to the industry, and compete for prize money.
Each student registers individually. The organizer then forms groups of approx. 5 students from different educational institutions and fields of study who will work together from Monday evening on the 21st to Wednesday evening the 23rd of August. During the Student Day on the 24th of August, the groups will pitch their ideas for a jury and the winner announced. The prize money is NOK 10 000. In addition, all students participating in the Aqua Nor Student Camp get access to the fair all days, a separate room at Trondheim Spektrum for group work and lunch.
We want to reach as many students as possible who are curious about the aquaculture industry and want to contribute with ideas for sustainable development. During Student Camp, you will learn more about how to work with complex, industry related issues, have the opportunity to work close with actors from the industry, and get to know other students. Participation does not require any detailed knowledge, but requires interest, commitment, and willingness to cooperate.
The overall theme is: Green future for blue food
Use the opportunity and participate in this year's Aqua Nor Student Camp!
Registration is now closed. If you wish to be on the reserve list, send an e-mail to alexandra.neyts@ntnu.no with your name, e-mail, university, field of study and level, and briefly your motivation for participating
Number of available spots are limited to 25 students. The aim is maximum diversity, and any selection will therefore be based on place of study, field of study, experience and motivation.
Program for Aqua Nor Student Camp
Kick-off Monday 21st of August
| | |
| --- | --- |
| Time | What |
| 18:00 | Welcome to Student Camp |
| 18:10 | Check in – introduction of participants |
| 18:30 | Pizza and mingle |
| 19:00 | Formation of groups, intro to theme, mentors present themselves |
Timetable Tuesday 22nd of August
| | |
| --- | --- |
| Time | What |
| 09:00 | Welcome and check in |
| 09:10 | Breakdown of themes with mentors |
| 10:00 | Exhibition opens |
| 10:00 | Group work, fixed interactions with mentors/guidance |
| 12:00 | Lunch |
| 12:30 | Group work |
| 14:30 | Summary – end of day two + coffee |
Timetable Wednesday 23rd of August
| | |
| --- | --- |
| Time | What |
| 09:00 | Welcome and check in |
| 09:10 | Group work |
| 10:00 | Exhibition opens |
| 10:00 | Group work |
| 12:00 | Lunch |
| 12:30 | Group work |
| 14:30 | Summary – end of day three + coffee |
| 23:59 | Submission of presentation |
Timetable Thursday 24th of August – Student's Day
| | |
| --- | --- |
| Time | What |
| 10:15 | Registration and welcome |
| 10:30 | Student seminar starts, presentations from the industry, students present their work for the jury – see Student's day at Aqua Nor 2023 |
| 11:25 | Student seminar ends |
| 11:30 | Visit the exhibition grounds |
| 13:30 | Mini seminar for students with announcement of the winners at Forskningstorget |
| 16:30 | Social gathering at Conference bar |
| 17:00 | End of Student day |