Student's day at Aqua Nor 2023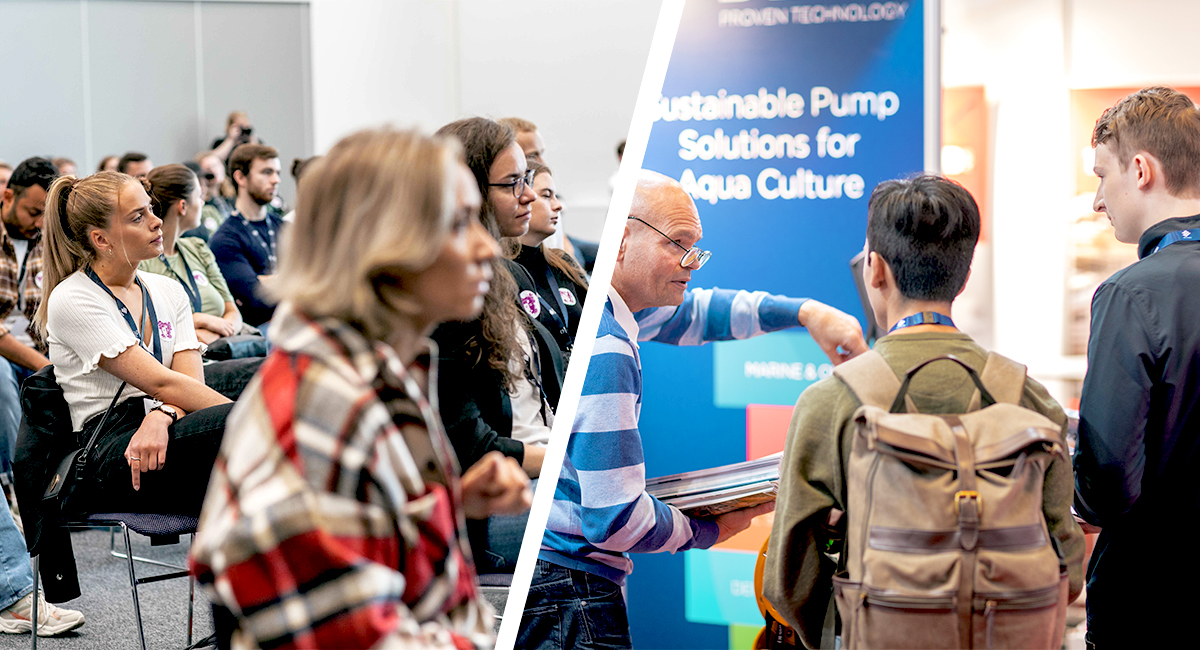 As usual, the Student Day is held on the last day of Aqua Nor – this time a Thursday. All students get access to the exhibition free of charge. The Students Day starts with a seminar in the main meeting room. Students are then invited to visit the exhibition area, where companies and organizations are eager to talk about collaboration or job opportunities.
The aquaculture sector needs to attract a wide range of experts and professionals in order to develop further. Aqua Nor is the world's largest aquaculture technology exhibition and an important international meeting place for the aquaculture industry, taking place in Trondheim every other year. It draws about 25,000 visitors from up to 76 nations to its halls. All the latest innovations of importance in technology, processes and services related to farming salmon, marine species, mollusks etc are presented here.
This is a unique opportunity to learn more about this dynamic sector, the second largest in Norway, and to expand your network!
Thursday, August 24th
10.30 am – 17 pm
Aqua Nor at Trondheim Spektrum
About the Student's Day
Many of the future's most exciting careers will be found in the aquaculture industry – an industry in great and constant growth. At the Student's day, you will experience lectures that will show different pathways into the aquaculture sector and meet over 500 exhibitors from all over the world.
Participate at the Student Camp
From the 21st to the 24th of August, the stage is set for the first ever Aqua Nor Student Camp. Here, 25 lucky students get the opportunity to visit the fair, show themselves to the industry, and compete for prize money. Register by 15 June.
Program
10:15
Pick up your name tag at the main entrance
10:30
STUDENT SEMINAR (Conference Room)
10:30
Aquaculture – a sector with opportunities!
Øyvind Haram, Norwegian Seafood Federation
10:45
YoungFish – a social and professional meeting place for young employees in aquaculture!
Chair YoungFish Mid-Norway Thomas Aleksander Hansen, Biomar
11:00
AQUA NOR Student Camp
– Pitches from the participants
– Poll – public's favourite
Introduction by chair & mentor
11:15
Book launch! New aquaculture learning material for higher education
Turid Mørkøre, NMBU and Bengt Finstad, NTNU
11:30
Closing remarks with information about the Student Day activities
Alexandra Neyts, NTNU Oceans and student representatives
11:30-11:45
Award Ceremony: Innovation Award 2023
11:45-12:00
Award Ceremony: Stand of the Year
12:00
VISIT TO THE TRADE SHOW Contact the exhibitors to expand your network and exchange ideas. The booths expressing interest to talk to you are clearly marked Lunch at one of the food trucks of your choice.
13:00
STUDENTSEMINAR

Miniseminar 13-13.40 på forskningstorget inkludert prisutdeling

13.00- 13:24      Presentasjon av studier ved UIT, NTNU, NMBU og UIB
Student Sindre Bergvik v/UiT
Student Adrian Hansø v/ NTNU
Student Maria Sunnset v/NMBU
Student Kamilla Eggen v/ UIB
2 minutter hver = 8 minutter

Presentasjon av HI, Nofima, Norce, Sintef,  VI og Akvaplan-Niva
NMBU student; Ane Granne Kvale
NTNU student Adrian Hansø
UIB v/ Andrea Opshaug
UIT v Therese Hugstmyr Woie
(Studentene intervjue instituttene; hvem er de og hva har de å tilby? ((maks 2 ting) maks 3 minutter hver = 18 minutter Eks; tema for oppgaver, jobb karriere, spesialfelt i forhold til nasjonalt ansvar- skille fra de andre)
Havforskningsinstituttet
Nofima v/ Merete Kaspersen
Norce v/ Anne Ingeborg Myhr
Sintef
Veterinærinstiituttet v/ Torfinn Moldal, Fiskehelseansvarlig, Havbruk, villfisk og velferd
Akvaplan-Niva v/ adm dir Merete Kristiansen
maks 3 minutter hver = 18 minutter
13.30 – 13:35
Seafood Innovasjon Cluster Info om trainee ordninga 4 min
13:35
Utdeling av pris fra innovasjons-campen
13:45
VISIT TO THE TRADE SHOW (Continued)
14:00
Hvordan manøvrere seg på verdens største havbruksmesse?
Sted: Hall H
Arrangør: Sjømat Norge

Del I: Next Generation Seafood v/ Janicke Eckhoff
Janicke Eckhoff er prosjektleder for Next Generation Seafood i Sjømat Norge og jobber med hvordan sjømatnæringen bør kommunisere med unge. Nå blir prosjektet internasjonalt! Dette har hun finnet ut underveis.

Del II: Havbruksdagen 2023. Dette gjorde vi, dette planlegger vi i 2024!
Adrian, Morits og Brage er hjernene bak Havbruksdagen 2023 på NTNU. Hvordan gjennomfører man Trondheims største havbukskonferanse for studenter, hva har dere lært og hva er planene for 2024?

Del III: Hvordan bruke AquaNor som springbrett? Slik fikk jeg meg jobb etter studiene.
Samtale med Ingrid Natvik Rong og Julie Mjøen som etter studiene har fått jobb i henholdsvis Ovum og Spillfree. Vi diskuterer:
– Hvordan min interesse for sjømatnæringen var født
– Hvordan bruke studietiden.
– Hvordan jeg fikk jobb og hva jeg vil tipse de som nå står ved starten av studieløpet til å gjøre.
16:30
SOCIAL GATHERING (w/drinks) (Conference bar)
Registration – students have free entry all week
Students need to register for the event in advance (Tickets – Aqua Nor 2023 – tick off "Student" category). The event is for free, but registration is binding!
Exhibitors who have expressed their interest to meet students will be clearly visible on the Aqua Nor App.
Participate at the Student Camp
From the 21st to the 24th of August, the stage is set for the first ever Aqua Nor Student Camp. Here, 25 lucky students get the opportunity to visit the fair, show themselves to the industry, and compete for prize money. Register by 15 June.