Student's day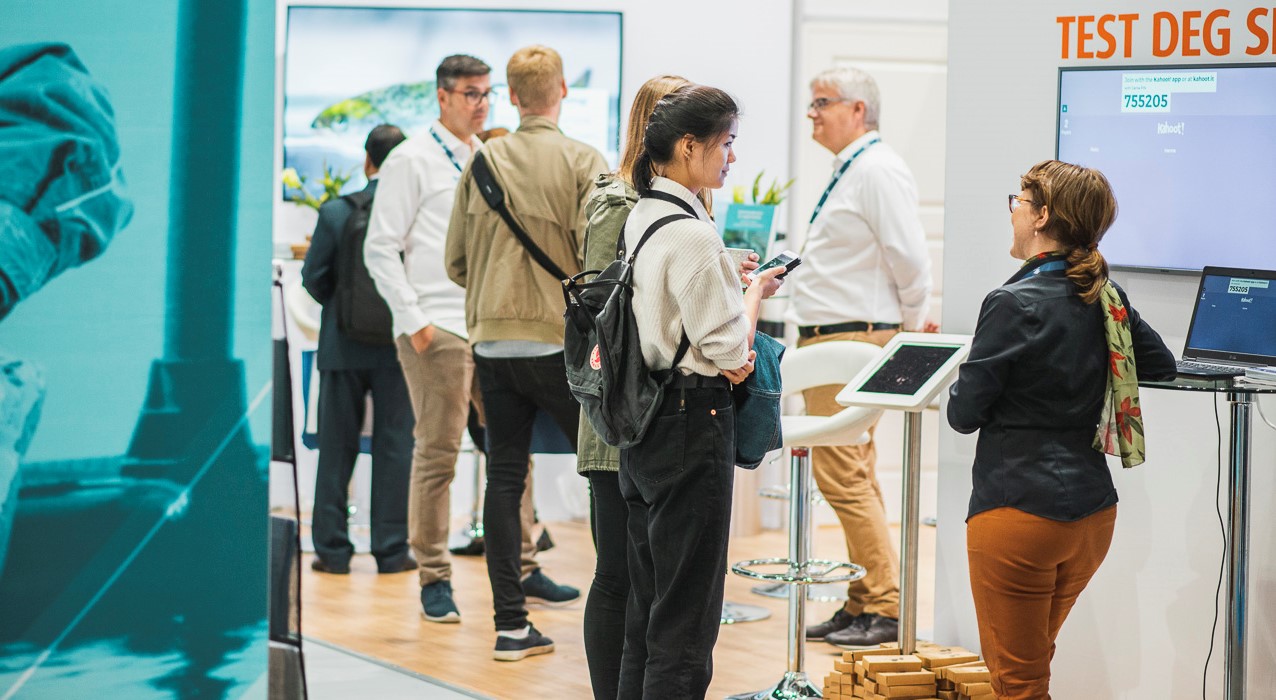 Friday, August 27th
0900 – 1500
Trondheim Spektrum, Kolstergata 90
This year's aquaculture supplier trade show will be both physical and digital. As a good tradition, Aqua Nor focuses on students on Friday! Join us for a good start of the day with inspiring talks that will show different pathways into the aquaculture sector. Subsequently, all students are invited to meet the company representatives at their booth.
Students need to register for the event in advance, by completing this on-line form (the event is free, but registration is binding). Students will be given stickers in order for the companies to easily recognise them.
Exhibitors who have expressed their interest to meet students can inform about project ideas, summer jobs, internships or job opportunities at their booth (aka "student-friendly exhibitors" – as part of registration). Student-friendly exhibitors will be given a student communication kit: a sign/sticker to be clearly visible by students on both the virtual and physical fair and a set of questions to get the conversation going.
09:00
Registration
09:30
Student seminar
Conference room
Chaired by Martin Fredrik Olsen
Aquaculture – a sector with opportunities
Øyvind Haram, Norwegian Seafood Federation
Bridgehead Aquaculture – a toolbox for students
Ellie Johansen, NCE Aquatech Cluster
Trainee – transition from student to employee
Randi Anette Enge, BKS
Interacting with the industry – do's and dont's.
Hanne-Line Akslen Emblem, NTNU
The aquaculture student case – ready to join?
Frank Norbeck, Ungt Entreprenørskap
Poll
Information about the fair and its activities
Alexandra Neyts, NTNU & Torunn Paulsen, UiT
10:30
Visit to the trade show
Delegates with ideas for student projects, summer jobs, vacancies – or who are simply interested in talking to you, are clearly marked
13:00 – 13:30
Mini seminar – aquaculture study opportunities in Norway
(In Norwegian only)
Place: The Research Plaza
NMBU: Hvorfor studere fiskehelse og akvakultur på NMBU?
Presentert ved stipendiat David Persson og professor Hans Magnus Gjøen
NTNU – teknologi og kunnskap i samspill med havbrukssektoren
Ved Alexandra Neyts og Dorthe Alida Slotvik
UIT: Sjømateventyret starter ved Norges Arktiske Universitet, UiT
Ved Ingrid Hovda Lien + student
UIB: Studier av havbruk og fiskehelse ved Universitetet i Bergen
Ved Sigurd Stefansson
14:30
Sammenkomst med Quiz
Location: Garden