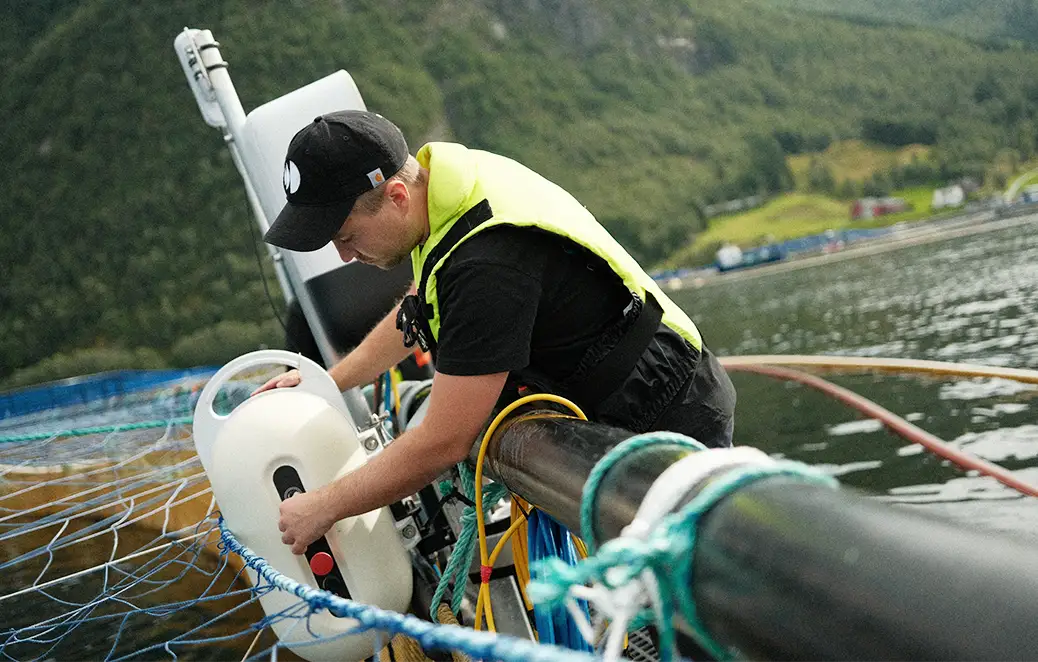 Tidal to debut its pioneering underwater sensing and analysis platform at Aqua Nor Digital 2023
16. May 2023 · Ukategorisert
Tidal, a team at Alphabet's moonshot factory, has developed a unique underwater sensing and analysis platform to monitor farmed salmon in collaboration with the world's leading seafood company, Mowi. Aqua Nor Digital will be the first aquaculture commercial trade show to feature Tidal as an exhibitor.
Tidal is headquartered in Mountain View, CA, and was founded from within the Alphabet-owned innovation engine, X, The Moonshot Factory (formerly Google X) in 2017. The team is composed of world-class data scientists, oceanographers, and robotics experts who are combining machine learning with a new type of underwater perception system to gain unprecedented visibility into aquaculture pens and their relationships with ecosystems. While Tidal has established projects in other large fish farming nations across several fish species, the company's work in the field began in Norway.
– Exhibiting at Aqua Nor Digital allows Tidal to demonstrate our expertise in artificial intelligence, machine learning, edge computing, and ocean simulation with videos demonstrating the systems in the field, and informational material that can be downloaded, says Kira Smiley, Business Development Manager at Tidal.
After an extensive research and development phase involving field testing and data collection, Kira and her team is looking forward to sharing the now commercially-vetted software and hardware systems with the aquaculture industry.
– The online format of the exhibition is an ideal way to present Tidal and our solution to the industry for a much longer period than the three-day in-person exhibition. We are looking forward to joining Aqua Nor 2023 for our first major trade show launch, says Smiley.
The relationship between Tidal and Mowi began when the seafood leader was looking for solutions to monitor the health of farmed salmon in a more sustainable and cost-efficient way. Using a combination of new camera technology, artificial intelligence and software expertise, Tidal's system can track and model fish behaviors, environmental conditions, and the health of salmon over time with high precision and accuracy.
– Aqua Nor is the place to be when you're a part of the aquaculture industry. It's key for us to be represented at the exhibition for networking, but I have also secured tickets for both the grand dinner and the Aqua Nor conference 2023, says Smiley.
Aqua Nor Digital is opening its digital doors on 1 June 2023, and will be available to visitors until May 2024.
Do you want to experience Aqua Nor Digital or sign up as a digital exhibitor?
Experience the exhibition where you are – sign up for Aqua Nor 2023 Digital – Aqua Nor