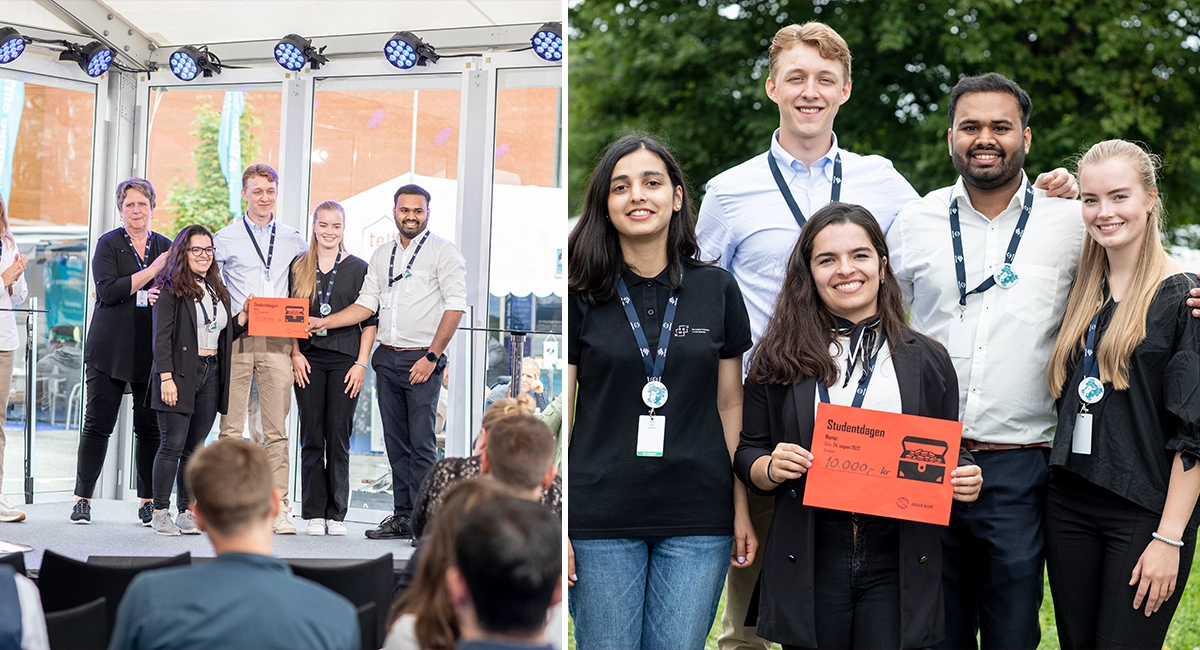 The winners of Aqua Nor Student Camp 2023!
24. August 2023 · Ukategorisert
25 skilled students have this year participated at the Aqua Nor Student Camp. They have been split into several groups which has worked with a case connected to the theme "Green future for blue food". A lot of interesting cases were presented for the jury, but in the end these five students were announced as the winners. They also received an award of NOK 10 000.
This is the first year the Aqua Nor Student Camp is held, and the interest has been vast. As a participant at the Student Camp, the students are participating at the exhibition and get to dig deeper into the industry, work in groups, get to know potential employers and other students, and generally learn a lot.
The winning students
Alina Noor (Master in Aquaculture, NMBU)
Muhammed Salih Salim (Master in Health Management in Aquaculture, NTNU)
Paula Alejandra Barco Alzate (Master in Industrial Ecology NTNU)
Christoffer S. Bjønness (Master in Environmental and landscape geography, UiB)
Kamilla Eggen (Master in Aquaculture (civil engineer), UiB)
Food waste as fish feed
The task was to find a new, unused resource found in Norway, which can be included in the fish feed. The group came up with a circular solution for how food waste can be recycled and used as fish feed.
– Food waste is a major challenge worldwide, so we thought "why not find a way to utilize food waste and use it for fish feed?", explains Christoffer.
Days filled with knowledge
The students have had days filled with content, and everyone has worked intensely on their presentations.
– We think all the presentations were incredibly good, so we thought anyone could win. That's why it was extra fun when we were called out as winners, says Paula.
— We have learned a lot by participating in the Student Camp. People at the fair have given us good input and offered their thoughts on our idea, and it has been very nice to meet the industry in the international arena that Aqua Nor is. We have enjoyed ourselves a lot and it has been a great experience to be here, concludes Kamilla.
Congratulations to the winners and thank you to all the students who participated in this year's Student Camp!
See video of the winners here: