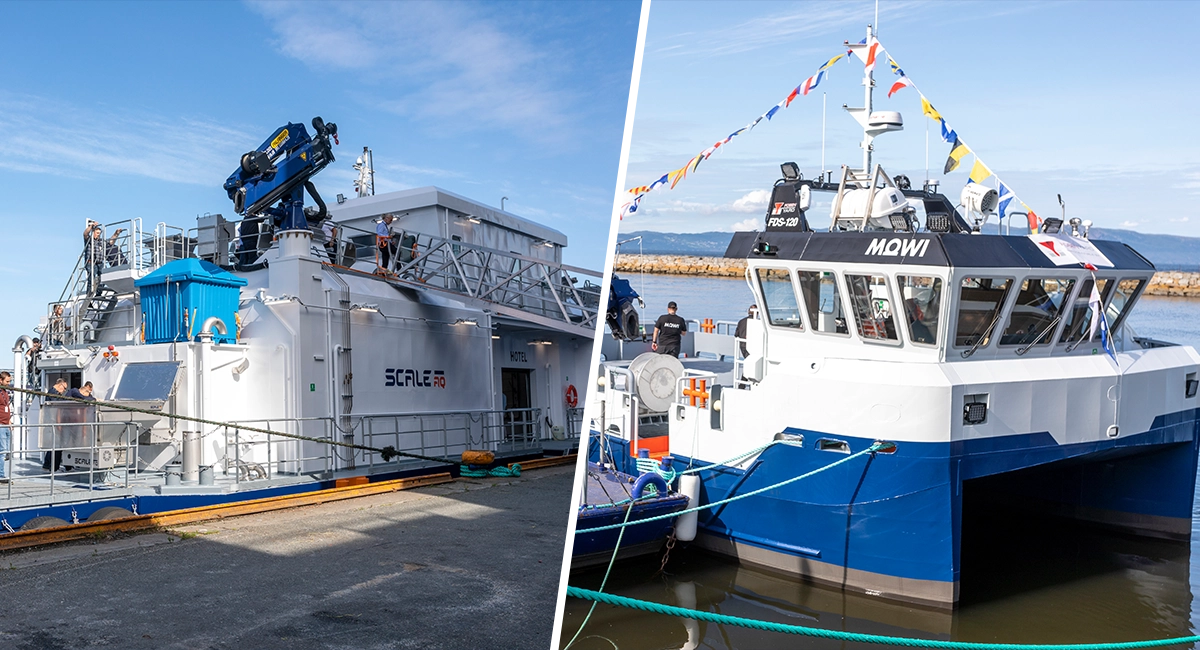 Sun and a good atmosphere at Skansen: Perfect conditions for christening new vessels
23. August 2023 · Ukategorisert
Naming new fleets, boats and other vessels during Aqua Nor has become a regular occurrence. Two of this year's christenings took place at Skansen during the second day of exhibition. We had a chat with ScaleAQ and Fosen Yard about the deliveries and checked the atmosphere in the floating part of the exhibition area.
With good attendance at both christenings, catering, music, sun and smiling faces, everything is set for two successful christenings. And they were!
ScaleAQ with new water feeding fleet for Norcod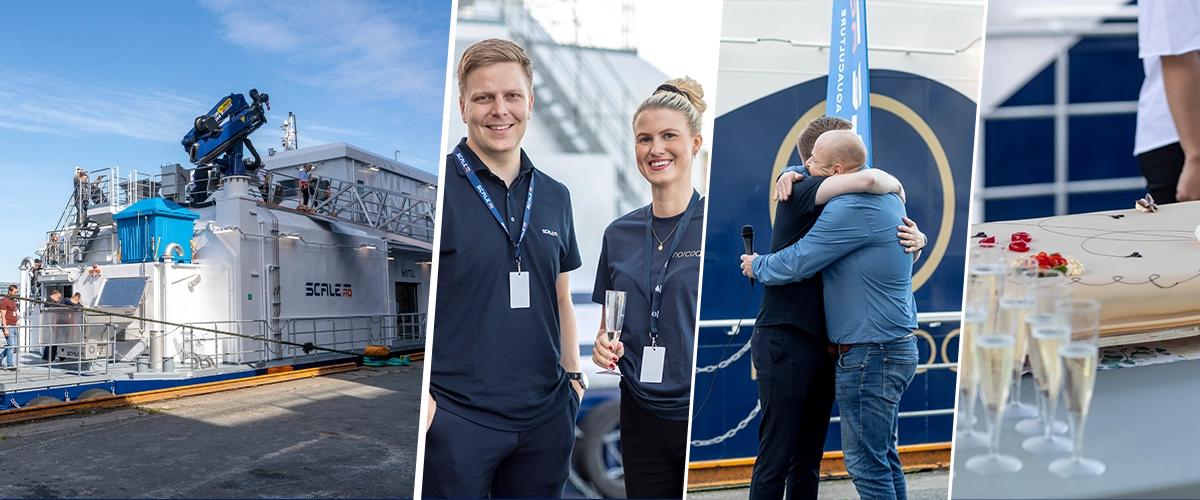 First up is ScaleAQ, which will hand over its new feeding fleet to Norcod.
The steel fleet has water feeding and a maximum capacity of 400 tons of feed – which gives Norcod good flexibility for feeding cod.
— Those who will work on the fleet will experience a different working life than they are used to before in commercial locations. There is, so to speak, no noise on the fleet, since the feed is transported through water, which makes less noise than air feeding, says Rune Blomstervik, special advisor at ScaleAQ.
Norcod and ScaleAQ tells us that the collaboration has developed into a kind of "marriage", a statement which makes those present at the christening smile even more.
— We must admit that we were a little unfaithful at the start of our collaboration, but when Scale came to us and said that they could deliver a water feeding fleet the way we wanted it, there was no doubt that we wanted to work with them. And now our marriage is solid and looks very promising for the future, says Tsjipke Deuzeman, CPO in Norcod – with a gleam in his eye.
Watch Rune talk about the new water feeding fleet:
Fosen Yard with a new work boat for MOWI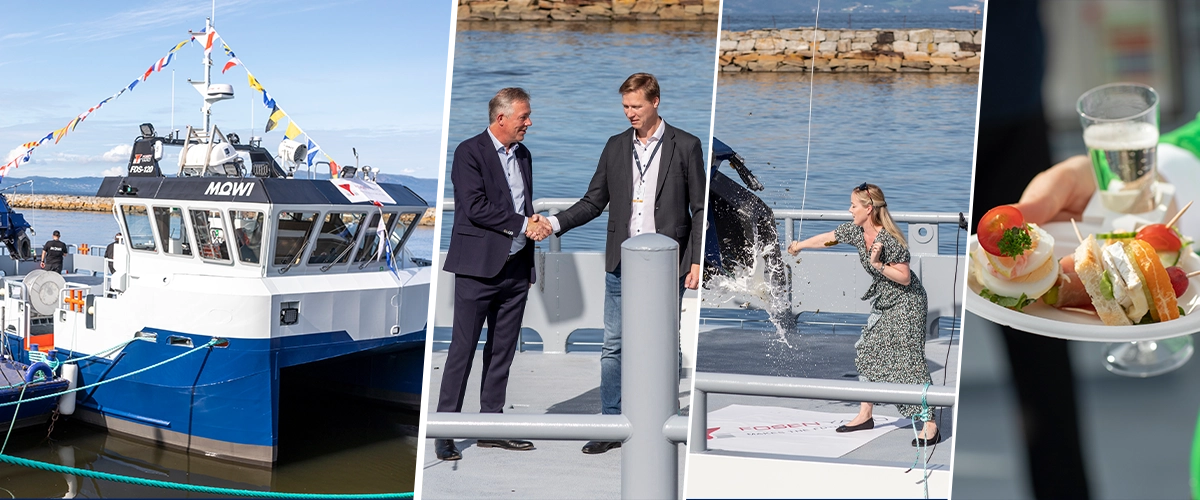 A few meters further on the quay we find the new work boat from Fosen Yard. The boat will be used at MOWI's location in Hitra. Here it is to be used for everything to do with the day-to-day operations at the location.
— The boat is tailor-made to order and adapted to our operations on location. Those who will operate the boat have had a say in how they want it to be in their own workplace, and that has meant a lot to us, says Håvard Larsen, technical manager at MOWI.
The boat is number three in a series of deliveries of a total of nine workboats.
— For us, it is very exciting to work with MOWI as one of the biggest players in the industry. We build everything here at Fosen, so it simplifies the follow-up for them. There is a short distance between us, and I think that is an advantage for both parties and the collaboration, says Anders Straumshaug, CEO of Fosen Yard.
Anders and the rest of the guys at Fosen Yard have been working day and night recently to get the boat finished in time for Aqua Nor. They did it, and here in the baking sun the champagne bottle is ready to be popped to christen the new boat MS Gullhaug.
— The christening fits particularly well since it is Aqua Nor. We weren't actually sure if we were going to make it, but luckily we did. Now the christening has been completed and the keys have been handed over to MOWI, and we will continue to celebrate, have dinner and enjoy ourselves at the exhibition, concludes Anders.
Watch Anders and Håvard talk about the collaboration and the new workboat here: