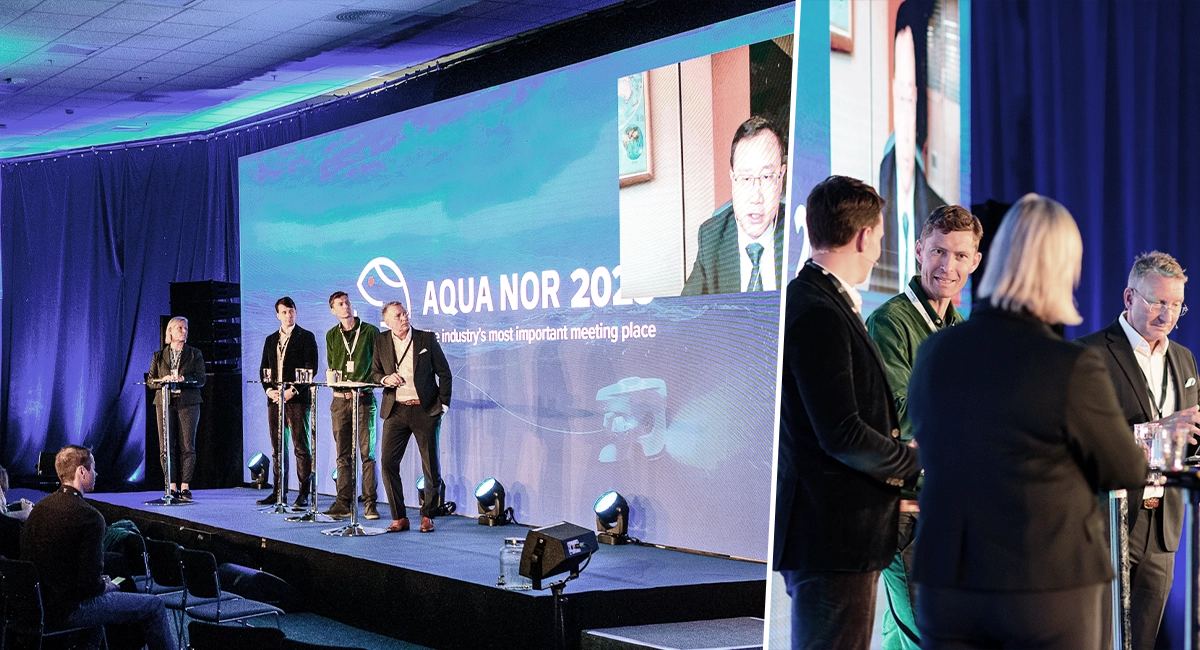 Debate on Offshore Fish Farming: Is open aquaculture the future?
23. August 2023 · Ukategorisert
The aquaculture industry looks excitedly at the development of offshore fish farming. Our panel argue that all ocean industries must collaborate and open their value chains, for the aquaculture, the maritime, and offshore industries to coexist and succeed.
— In 20-30 years, offshore fish farms can potentially produce twice as much fish as we are currently producing in coastal fish farms. However, extremely thorough planning is required to realize those volumes. In particular, fish welfare and our environmental footprint must be taken into account, says Lars Konrad Johnsen in Utror AS.
The panel of experts:
Ole Fretheim (Moderator), The Norwegian Seafood Federation
Lars Konrad Johnsen, Utror AS
Kjerstin Braathen, Aker Solutions
Per Arild Åland, DNV
Xinhua Yuan, Deputy Director, FAO
The Value Chains Must be Front and Center
Discussing the potential future of offshore fish farming, all panel members agreed on one crucial aspect: The fish farming industry needs to plan on a larger scale than before; on the level of complete value chains, and across industries.
— In terms of super clusters – consisting of the fields of aquaculture, maritime, and offshore – collaboration will be key when operating in this competitive offshore landscape. The worst-case scenario is that competition between companies hinder all sea-based industries from reaching our full potential, says Kjersti Braathen of Aker Solutions.
Mr. Johnsen of Utror AS agrees, describing the future of offshore industry as a marathon, not a sprint.
— We will need to make all three industries of the super cluster visible and heard. If not, we will never be able to understand each other's goals, and in which areas each industry needs extra emphasis.
Strategic Framework Improves production
FAO, the Food and Agriculture Organization of the United Nations, is doing their part. They open the fish farm industry by defining a new, strategic framework to improve production. In particular, they are defining the requirements in terms of nutrition, living environment, and fish welfare.
Mr. Xinhua Yuan of FAO explains:
— This is a natural part of the FAO's responsibility, as offshore fish farming most likely will contribute to feed the world's future population.
Offshore Fish Farming has Vast Potential
In terms of when we get the first offshore fish farming facilities, Braathen believes this might happen as soon as the start of 2025.
— I expect us to have fish in offshore fish farms within five years. That is what we really plan for. However, we still haven't sufficiently engaged with everybody who needs to invest heavily, to make this journey successful, she explains, referring to the offshore value chain.
Per Årland of DNV agrees:
— The potential is vast. In about 10 years, I'm sure we will be farming millions of tonnes of salmon a year. DNV has made projections of offshore fish farming up until 2050, which will be published in October. You'll have to stay tuned for the publication.
Watch the debate
If you missed the debate, you can watch the recording at our digital exhibition platform.