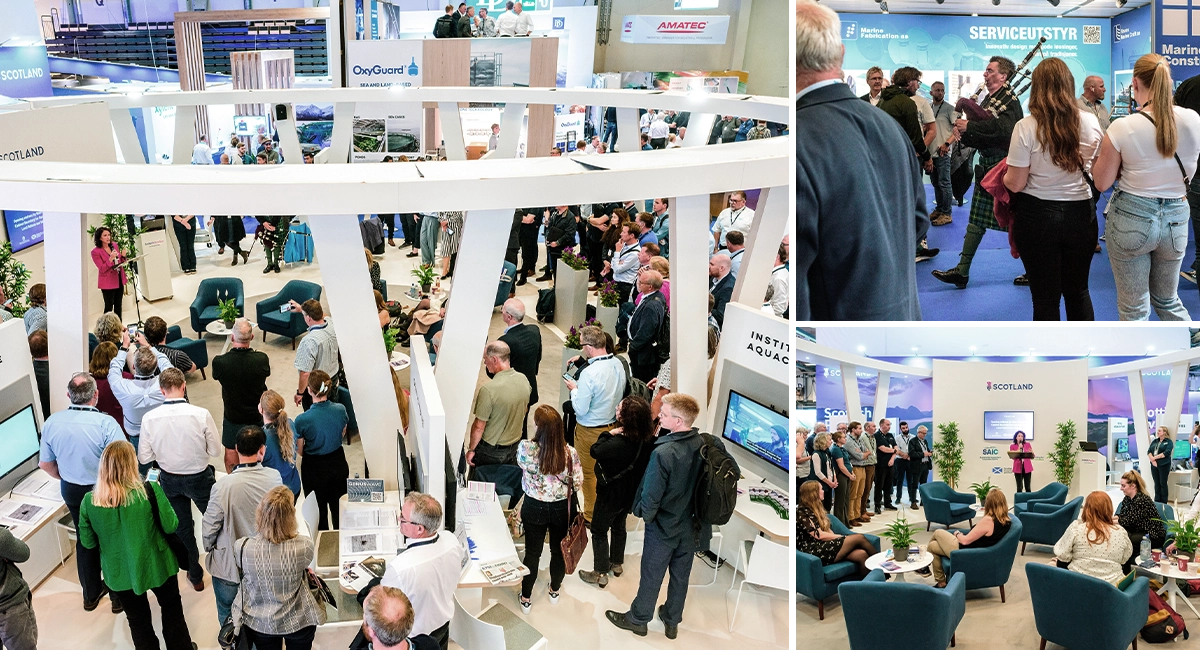 International companies return: Meet the Scottish Pavilion
22. August 2023 · Ukategorisert
Tuesday at noon, the impressive Scottish Pavilion officially opened in Hall D at the Aqua Nor exhibition. Scotland holds an important position in the aquaculture industry, and we're delighted to welcome them back to the industry's most important meeting place.
The last time Aqua Nor was held was back in 2021, when precautions had to be taken due to the pandemic. Then, the Scots participated digitally on Aqua Nor Digital. This year, they're back in Trondheim Spektrum, gathered under an eye-catching banner easily spotted in Hall D.
Big turnout at the opening
The official opening gathered a double digit – if not triple (we had trouble counting) – number of visitors, who were greeted by a kilted bagpiper playing lovely Scottish tunes. A total of 18 companies under the Scottish banner pitched their work and research, to great interest from the audience.
We chatted with first timer Amber Irwin Moore who's an aquaculture consultant at Sam's Enterprise (Scottish Association for Marine Science) shortly before the opening. Moore explains that several of the commercial companies present share a building back home.
"I see some familiar faces here, though we all represent different companies. Some of us work with aquaculture, some with seaweed farming. Personally, I work on a product that tracks particle waves from salmon farms," Moore says.
Several countries represented
Though it's not Moore's first aquaculture conference, it's her first time at Aqua Nor. With the opening coming up, she hasn't found the time to roam the exhibitor halls herself, but from what she's seen so far, she sums it up simply:
"Aqua Nor is big; definitely a different scale to other conferences I've been to."
The international turnout at Aqua Nor 2023 is vast. The Danish Pavilion is ever present, and exhibitors as well as visitors represent nations from across the world.