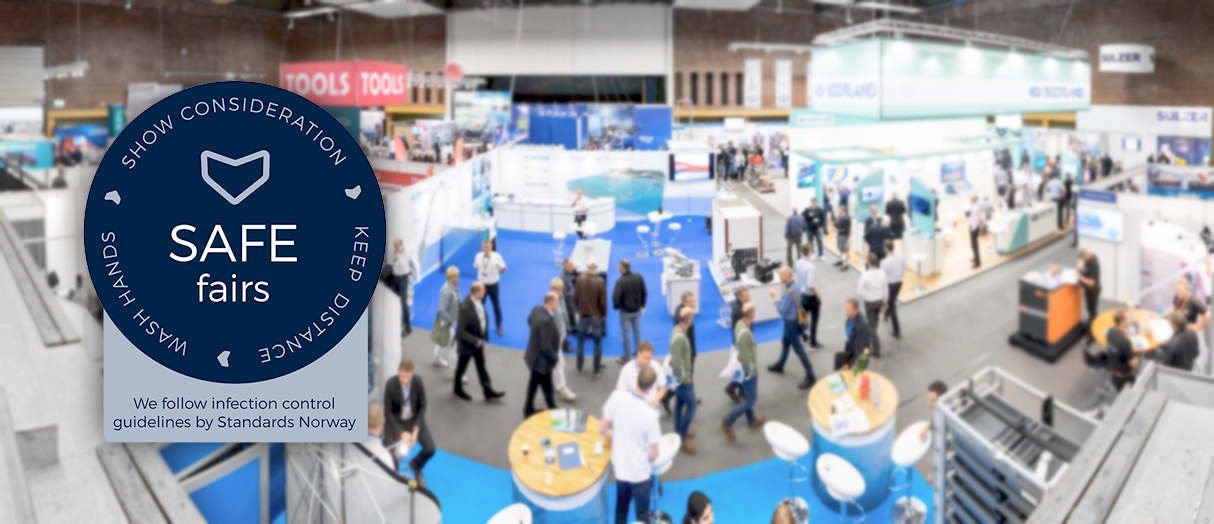 Safe participation – Aqua Nor follows infection control guidelines for trade fairs
3. June 2021 · General, Ukategorisert
Aqua Nor 2021 is organized in accordance with the infection control guidelines for trade fairs. The guidelines have been prepared by Standard Norge, on behalf of the Ministry of Trade, Industry and Fisheries. This means that the exhibition will follow specific guidelines, enabling us to maintain proper infection control throughout the exhibition, and that we plan for a safe gathering in Trondheim.
The infection control guidelines contain concrete measures that are specifically designed with trade fairs in mind. We commit to arranging Aqua Nor in line with the guidelines, and use it as a template for how to, among other things:
Design the exhibition area to facilitate enough distance between visitors
Place hygiene stations
Schedule cleaning routines for all areas of the fair
Deal with potential outbreaks during the fair
In addition to following the guidelines in the infection control guide, we will offer rapid antigen tests at the trade fair area – if such a measure is appropriate at the time of the fair.
We are considering mandating the use of face masks – regardless of whether or not there are mandates from national or regional infection control authorities.
What measures should you take?
We encourage all exhibitors, participants and visitors during the fair to follow national and local infection control measures. Make sure you maintain good hygiene during the fair. Wash or use hand sanitizer often, make sure you always maintain a safe distance to other visitors and exhibitors, and stay at home if you are ill – or think you might have symptoms.
Pay attention to our website and follow our Aqua Nor-newsletter to receive important information about changes in our infection control measures, and, as the exhibition date approaches, the contamination situation in Trondheim.