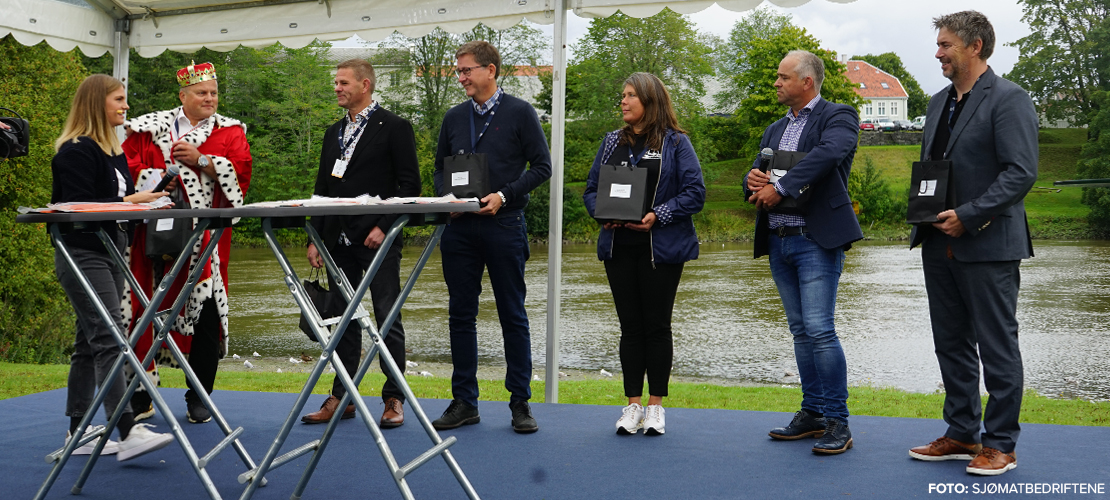 Winners of the Norwegian Seafood Championship
25. August 2021 · Ukategorisert
During the live broadcast on the digital Aqua Nor platform, the winners of the Norwegian Seafood Championship were awarded. Some of the winners got an extra surprise from one of the big Norwegian profiles in food and tourism.
The distribution was streamed live on the Aqua Nor Live channel in three parts.
Will be included in the food offer at the five-star hotel
Present during the award ceremony was Mikael Forselius, hotel director at Britannia Hotel, who handed over three gift certificates to lucky winners. With these gift cards, they get the opportunity to serve their product at the five-star Britannia Hotel, says Mali Myren, who is responsible for events and communication at Sjømatbedriftene.
A plethora of gifts
In addition to the actual prizes the winners received for their respective victories and podium finishes, a number of prizes were awarded to the winners.
– Tine, who is the main sponsor of the National Seafood Championships, was also present with Hege Bjørgum. She handed over a "cheese wheel" to the winner in the cheeseburger category. They also won a product development day with Tine. Platina Seafood Marked received a gift card from NorEngros (Main sponsor for the Norwegian Seafood Championships), says Myren.
Robert Eriksson, CEO of Sjømatbedriftene, presented all the awards, assisted by Frode Kvamstad, general manager of FIAS (the fishing industry's purchasing company).
Tough competition and good feelings
During the presentation, the winners were primarily concerned with whatever they could learn from each other. The representatives from Brødrene Hjønnevåg, Hofseth Aqua and Reinhartsen praised the other participants and thought the strong competition was a hallmark of quality for the entire industry.
Here are all the categories – and the rankings of the various participants:
Cold smoked trout:
• Trout smoked on apple shavings – Mikals Laks AS
• Storfjord Stamp Trout – Hofseth Aqua AS
• Cold-smoked trout on beech and juniper – Reinhartsen
Cold smoked salmon:
• One-smoked salmon – Mikals Laks AS
• Cold-smoked salmon – Sotra Fiskeindustri
• Lofoten Einerrøkt Laks – Lofotprodukt
Hot smoked salmon:
• Hot smoked spicy salmon – Brødrene Hjønnevåg As
• Hot smoked salmon – Mikals Laks AS
• Hot smoked salmon with pepper – Knutstad & Holen A / S
Cured/ marinated salmon:
• Marinated salmon – Sotra Fiskeindustri
• Gravlaks – Brødrene Berggren
• Dolmøy marinated salmon – Dolmøy House of Seafood
Open class (smoked and marinated):
• Storfjord trout with pepper – Hofseth Aqua
• Smoked spicy Storfjord trout – Hofseth Aqua
• Storfjord salmon with pepper – Hofseth Aqua
Handcraft products Fish burger:
• Fish burger of fresh haddock, pike and some saithe with coriander, chili and spring onion – Reinhartsen
• Fish burger on fresh haddock, pike and some saithe with leeks – Reinhartsen
• Cod burger with chorizo ​​- Knutstad & Holen A / S
Handcraft products Fish cakes:
• Fine haddock cakes – Gla Laksen AS
• Fish cakes – Tistedal Delikatesse
• Coalfish cakes – Knutstad & Holen A / S
Craft products Finished product / Ready-made:
• Lasagne with saithe! – Reinhartsen
• Trout sausages – Knutstad & Holen A / S
• Fish gratin! With cod – Reinhartsen
Industrial products Fish burger / Fish burgers:
• Coop Fish Burger 92% (Leek / Garlic) 300g – Norwegian Quality Food
• Rørvikburger – Rørvik Fiskemat AS
• Salmon burger – Sjøfrisk Norge AS
Handcraft and industry Fishloaf:
• Fish loaf – Brødrene Hjønnevåg As
• Fish loaf – Tistedal Delikatesse
• Fish loaf with cream – Brødrene Berggren
Industrial products Fish cakes:
• Rørvik fish cakes – Rørvik Fiskemat AS
• Coop fish cakes with cod 600g – Norsk Kvalitetsmat AS
• Lofoten Matpakkekaker – Lofotprodukt AS
Handcraft and industry Cheeseburger:
• Trout burger with herbs & cheese – Platina Seafood Marked AS
• Salmon burger with chili & cheddar – Platina Seafood Marked AS
• Fish burger with cheese & bacon – Sjøfrisk Norge AS
Industrial products Ready-made / finished product:
• Trout sausage with chili & cheddar – Platina Seafood Marked AS
• Rørvik Fish Balls – Rørvik Fiskemat AS
• Rørvik soup fish balls – Rørvik Fiskemat AS