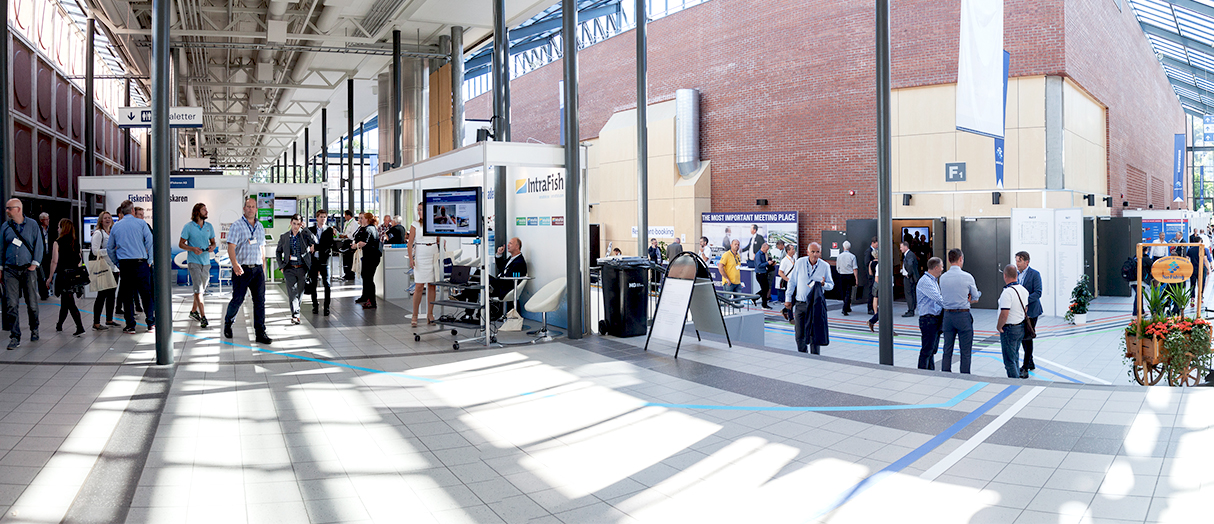 Updated information regarding infection control during Aqua Nor 2021
16. August 2021 · Ukategorisert
In infection control guides, Aqua Nor is mainly equated with the retail trade industry. This means that this year's physical trade fair follows the same recommendations and measures as, for example, large shopping centers. Updated information on infection control during the trade fair, answers to our most frequently asked questions, and links to relevant authorities' websites can be found on this page.
This year's trade fair is arranged in accordance with the infection control guide for trade fairs and exhibitions. To ensure the safest possible participation, we are implementing several measures during the trade fair. You are most likely already familiar with the majority of these measures.
Frequently Asked Questions (FAQ)
Q: Will I be required to wear a face mask during the trade fair?
A: No – as long as there is no requirement from local or national authorities, we will not make face masks mandatory. We do however strongly encourage all participants to use face masks, and always recommend wearing a face mask in situations where it is difficult to maintain a decent distance from one another (one meter/ three feet).
Q: Do I have to take a test before I arrive at the trade fair?
A: No. The same way shopping centers do not require a negative test before entering, you do not need a negative test or vaccine passport before arriving at Aqua Nor. If you display symptoms or are feeling ill, you are to remain at home.
Q: Do special rules apply if I arrive from another country?
A: If you are traveling to Norway from another country to participate at Aqua Nor, you may be subject to quarantine rules. In that case, it will depend on where you travel from. Rules and regulations are constantly changing, and we recommend contacting your embassy or seeking information from relevant Norwegian authorities' websites (links below).
Once you have arrived (and completed your quarantine), you must follow our general measures and recommendations.
Q: Is there a set limit on how many people can visit my stand?
A: No. See the separate section for exhibitors below, containing advice for infection control.
For exhibitors
As an exhibitor in Trondheim Spektrum, you are responsible for ensuring that infection control is observed and enacted at your stand.
Number of visitors at your stand
We will not enact any regulations with regards to how many people can visit your stand at the same time. Your visitors may be fully vaccinated, or belong to the same cohort. Therefore, we have decided that it is best that you as an exhibitor make discretionary assessments along the way, with regards to the number of simultaneous visitors at your stand.
There will be security guards present at the exhibition area, who can help with such assessments, as well as informing the visitors at the stand.
Cleaning the stand
We encourage all exhibitors to keep contact surfaces at their stand clean at all times. You yourselves should make discretionary assessments on how often contact surfaces needs to be cleaned, based on how many visitors your stand has and how many people touch different surfaces throughout the day.
We encourage all exhibitors to bring their own cleaning equipment; there will be opportunities to buy this from the organizer.
These measures apply in Trondheim Spektrum
In Trondheim Spektrum, we would like to remind you of the requirement to maintain a minimum distance of one meter (three feet) to others while in the exhibition area.
Social distancing is one of the most important measures against the spread of infectious diseases.
Social distancing
We have downgraded the maximum number of daily visitors in Trondheim Spektrum, to ensure sufficient space for all participants.
We have increased the number of personnel and security, to help avoid the formation of large gatherings of participants.
In areas where queues could easily form, we have marked the required social distancing distance between people.
Hygiene
Hand sanitizer dispenser are available throughout the exhibition area.
We have increased the frequency of cleaning routines for toilets and all contact surfaces.
We encourage everyone to maintain good personal hygiene – wash your hands frequently.
Stay at home if you feel ill or display symptoms of Covid-19.
Other measures
Everyone attending the trade fair must buy their ticket in advance. This year, to reduce the number of contact points, tickets will NOT be sold at the entrance.
We register all guests entering AND exiting the exhibition area, so that we know how many people are inside the exhibition area at any given time, as well as who has participated and when they attended.
Rapid tests for riggers
Upon arrival at Trondheim Spektrum, on Monday August 16th we will offer rapid tests for all personnel working construction during the trade fair.
Useful links
National and local infection control regulations are subject to rapid changes. We recommend that everyone who plans to attend the physical trade fair confer the appropriate authorities' websites.
Infection control rules – Trondheim municipality
National Online Health Services in Norway – national and local recommendations