Konferanse 23. august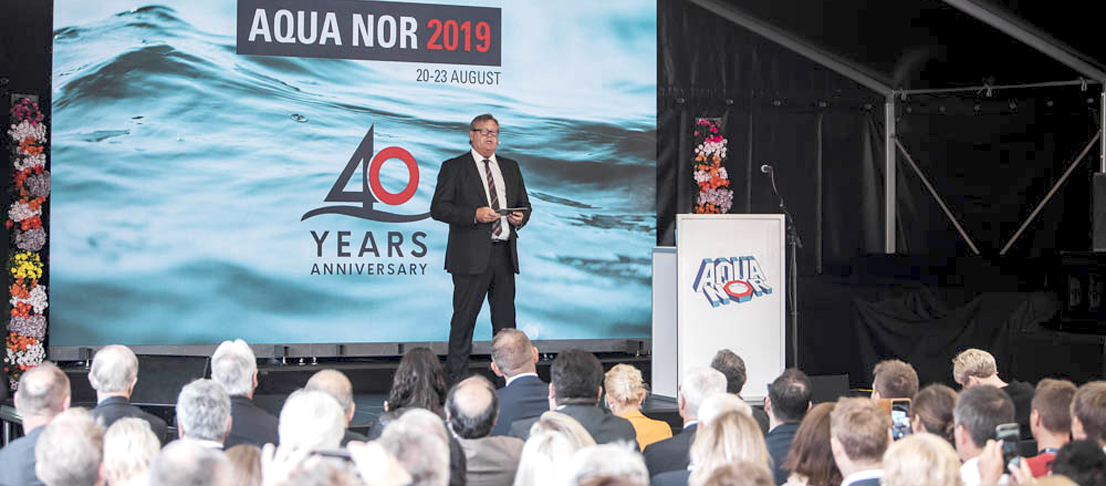 Conference: "More Food from the Oceans. Blue is the New Green"
The ocean is expected to be a part of the solution to the climatic challenges caused by the human population. An increased use of the oceans for production of food, renewable energy, transportation, and carbon storage represents important positive contributions. Only 2 percent of our food calories today originates from the oceans. Therefore, there is a potential for increased use of the oceans.
To follow the conference, you must have a valid ticket for the Aqua Nor exhibition. Purchase your ticket here.
Location: Digital conference. Login to Aqua Nor 2021 Digital to follow the conference.
More Food from the Oceans. Blue is the New Green " will put a global perspective to food production, both as supplier for an increasing world population, and the positive effects on our climatic challenges by moving more protein production from land to sea.
Here you can meet people from industries, FAO, EU, national authorities and academia.
Sessions
By setting up specialised sessions in exposed aquaculture, land based aquaculture, feed resources and nutrition, food processing and engineering and enabling technology for aquaculture, covering the whole aquaculture value chain, speakers from industry and academia will present "state of art" under the different topics.
Arranged by The Nor-Fishing Foundation, SINTEF and NTNU
By arranging the conference "More Food from the Oceans. Blue is the New Green" during Aqua Nor 2021, The Nor-Fishing Foundation, SINTEF and NTNU wish to focus upon the technological possibilities and challenges we are facing to reach our goals.
The Aqua Nor exhibition represents the world largest technological window towards the aquaculture sector, while SINTEF and NTNU together form a global centre of gravity for marine science, technology, and engineering. It is based upon this that The Nor-Fishing Foundation, SINTEF and NTNU hereby invite you to a scientific program during this year`s exhibition. The program will be updated continually.
Monday 23 August 2021
GLOBAL MONDAY
MORE FOOD FROM THE OCEANS – BLUE IS THE NEW GREEN
Full-day digital conference
10:00 – 10:10
Welcoming address
Kjell Ingebrigtsen, Chairman of the Board in the Nor-Fishing Foundation
Prime Minister Erna Solberg
10:10 – 11:00
GLOBAL OUTLOOK
The role of seafood in world economics
Børge Brende, President WEC
How Covid-19 Supports the Case for Land Based as the Third Source of Seafood
Ohad Maiman, CEO Kingfish
What does the future of marine ingredients in aquafeed look like?
Petter Martin Johannessen, Director General, IFFO
Blue foods for a green, not too warm future
Carlos Duarte
11:00 – 12:00
Break
12:00 – 13:10
THE ROLE OF TECHNOLOGY
Technology for development of the global aquaculture industry
Alexandra Bech Gjørv , CEO SINTEF
The ocean and climate change. Can technology contribute?
Prof. Asgeir Sørensen, NTNU / AMOS
Industrial digital ambitions and development trends
Asle Kjetil Bratteli, Chief Digital Officer, AKVA Group ASA
Future distribution of fish products
Marketing director Ola Brattvoll, MOWI
13:10 – 13:40
Break
13:40 – 14:30
FACTORS ENABLING AQUACULTURE GROWTH
Driving forces and limiting factors for aquaculture growth
Geir Ove Ystmark, CEO Seafood Norway
Where is capital going in the aquaculture industry?
Kolbjørn Giskeødegaard, Colombi
Why we have to eat more fish
Gunhild Stordalen, Eat
14:30 – 15:15
Round table discussion
Moderator: Christina Abildgaard
Odd Emil Ingebrigtsen
Alexandra Bech Gjørv
Petter Johannessen
Kristian Henriksen
Gunn Kari Hygen
When you have purchased your ticket, login to Aqua Nor 2021 Digital to follow the conference.